Stanford University Photonics Retreat
Photos by Paul Lim
Working in a lab outside of my own department has been both rewarding and challenging. I've greatly benefited from being surrounded by and learning from those outside my field. However, being disconnected from other electrical engineers can be lonely too! Fortunately, the Stanford Optical Society, a student chapter of OSA and SPIE, runs a yearly retreat to unite optics researchers from different departments together for a weekend program of guest speakers, professional workshops, expert panels, and networking. I've had the pleasure of participating in, organizing, and being the program chair of the Stanford University Photonics Retreat (SUPR).
Importance
Professional development is often overlooked by graduate students because it is not formally required to obtain a degree. Furthermore, optics is such a diverse field that students often unacquainted with the research being done in the next building or across the street. Furthermore, having students and labs separated into schools, colleges, and departments creates artificial bureaucratic barriers where no intellectual barriers exist. SUPR is designed to address all of these needs and shortcomings. SUPR also provides younger graduate students a way to hone their communication skills by presenting their research to peers early in their career. SUPR also facilities networking between the 60 graduate students and 20 optics professionals attending from outside of Stanford.
Tasks completed
As program chair of the fifth-annual SUPR, I was responsible for the overall planning and running of the event. This included:
Scheduling and holding regular program committee meetings to plan the retreat
Delegating and overseeing other organizational tasks (such as inviting other speakers, scheduling the retreat excursion, registering attendees, coordinating rooms and meals for attendees, etc.) carried out by the program committee
Conducting site visits to choose the appropriate venue
Inviting and hosting two speakers: Dr. David Blake, principal investigator of CheMin from the NASA Ames Research Center, and Dr. Chris Golde, Associate Vice Provost for Graduate Education at Stanford
Working with Dr. Golde to design a "Making the Most of Your PhD" interactive workshop for the retreat
Making funding decisions to ensure retreat operated within budget
Communicating and cultivating relationships with funding agencies and organizations, both within Stanford and companies outside Stanford, to solicit financial support for SUPR
Publicizing the event through the SUPR website and by e-mail to various Stanford departments and organizations
Designing participant T-shirts
Delivering opening and closing remarks and announcements at the retreat
Writing and assembling thank-you letters and gifts for speakers and sponsors of SUPR 5
Skills gained
Organizational and leadership skills to lead a ten-member program committee to run a retreat for 60 graduate students and 20 invited guests over 3 days and 2 nights in Sonoma County, CA
Communication skills to interact with speakers, sponsors, and student attendees before, during, and after the retreat en masse and one-on-one
Technical and web skills to update the retreat website and send announcement e-mails to 80 retreat attendees
Lessons learned
Teamwork is essential for holding an event of this size. Assigning roles that fit individual members' interests and strengths is very effective for ensuring that work gets done.
Planning for the unexpected and being flexible when something unplanned occurs are valuable for making sure that the event stays on track. For example, our speakers typically speak longer than their allotted time slot allows, so we always build slack into the schedule to accommodate them. In another example, we didn't anticipate the traffic problems that our attendees encountered when driving from Stanford to Sonoma. Most arrived 1-2 hours late! Even with extra time built into the schedule via an afternoon reception, we were flexible enough to push dinner back by one hour and delay the Friday night keynote address. Adapting as the situation occurs saved our retreat from derailed right from the start.
Cultivating relationships is a key part of becoming a professional and adapting the norms of one's profession. As an undergraduate, I had only considered the presentations at conferences to be important, completely ignoring the tremendous opportunities to meet the people doing exciting research. Chairing SUPR 5 has given me the opportunity to meet and build relationships with professionals inside and outside Stanford, corporate sponsors, and peers all over campus.
Impact
Chairing SUPR 5 has first and foremost gotten me more involved in service activities for the Stanford graduate community. It is gratifying for me to have been involved in planning such a well-received event. It has also shown me how useful and beneficial it is to be an active member of a professional society, both for the connections it facilitates and the leadership experience it provides. Lastly, I served as Co-President of the Stanford Optical Society largely because of my experience planning various SUPRs.
Archive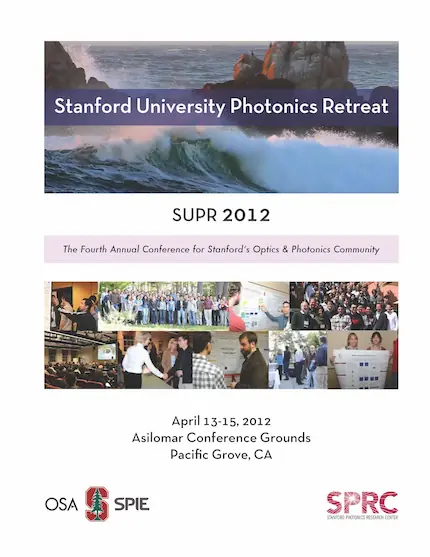 SUPR 2012 Program, April 13-15, 2012, Asilomar Conference Grounds, Pacific Grove, CA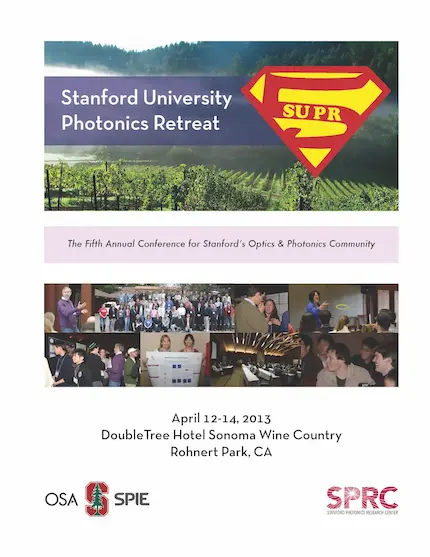 SUPR 5 Program, April 12-14, 2013, DoubleTree Hotel Sonoma Wine Country, Rohnert Park, CA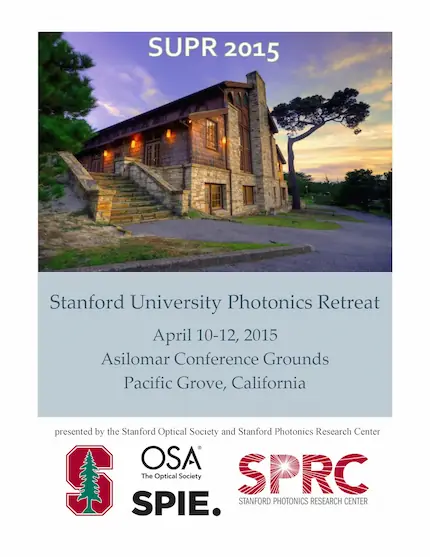 SUPR 2015 Program, April 10-12, 2015, Asilomar Conference Grounds, Pacific Grove, CA